About Woodworx Cabinet Builders Inc.
Proud Local Edmonton Manufacturers of Custom Cabinetry
Kitchens are often the most active spaces in our homes and our lives. It's where you engage family and friends in your life, making connections and sharing important memories of many things other than cooking! Woodworx understands how important it is to align your living spaces with your lifestyle to make the most of your treasured time at home.
As one of few local Edmonton manufacturers of custom cabinetry, Woodworx Inc. has built a successful referral business over the past 20+ years. We are personally vested in the happiness of each customer, and the success of each project, remaining hands-on with you during the entire project process, from envisioning a new space with you to completing installation of your new or enhanced dream space.
A Wide Spectrum of Sustainable Styles
We have many years of expertise in all aspects of space enhancement – design, manufacture and installation.  We've worked with a wide variety of customers and projects across the spectrum of modern and classic styling, in Edmonton and all surrounding areas. We work with home builders, contractors, and retail customers, valuing each unique project we undertake.  We promote sustainable operations by using water-based finishing products where possible.
A History of Employee Retention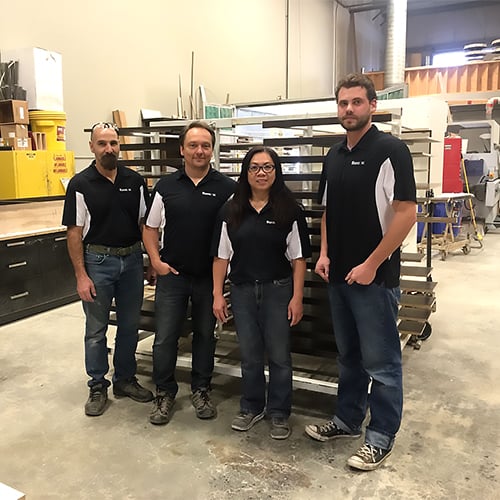 We are proud of our employee relationships; hiring people with high quality standards, excellent work ethic and dedication to the same quality and customer service values Woodworx was built upon. We also have fun, which contributes to employee retention – our operation has key shop employees with 5 and 10 year tenures with the company.
---